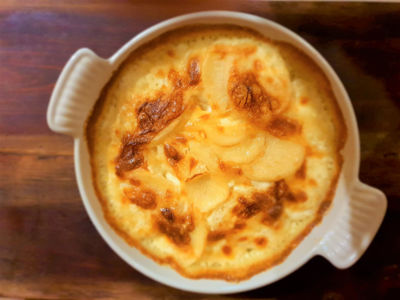 Switch it up a bit and serve up some fancy potatoes with dinner tonight.

This recipe is just great with a braai (BBQ), or equally good with a roast chicken, lamb or beef, a steak, or even some chops. And what's more, I promise you that this will be one of the easiest recipes you've ever encountered.

The trick to getting it right is to slice the potatoes as thinly as possible. If you have a mandolin, use that. I imagine a food processor with a slicing attachment would also do. But if push comes to shove and you have neither, then take a sharp knife and CAREFULLY slice them by hand.

Potato bake (Dauphinoise potato)

INGREDIENTS
5 or 6 reasonable-sized potatoes, very thinly sliced (about 3mm)
2 or 3 cloves garlic
500ml cream
Optional:
1 onion, very thinly sliced
A handful of grated cheese (gruyere is traditional, parmesan is good, cheddar is ok)

DIRECTIONS
• Gently heat the cream and garlic in a pot. Add the potatoes and simmer GENTLY for 7 or 8 minutes.

• Turn into a baking dish, spread evenly, then bake at 180°C for about 30 minutes, or until the potatoes are cooked and the top is golden brown.