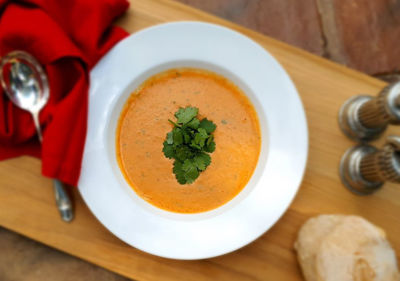 This is a wonderfully light and tasty soup, that's a great for this current weather, and a good start to 'soup season' for us in the southern hemisphere. It's also a nice easy meal to dish up to the hungry hoards at lunchtime with a bit of that homemade bread you've been busy with.
And just in case you haven't yet been bitten by that particular bug, or you have but are looking for another recipe to try, I've added a link to a great bread recipe at the end… it's really delicious with an amazing chewy crust. Give it a try!
Enjoy… and stay safe everyone!
Mildly Spicy Roasted Tomato Soup with Coconut Milk
Ingredients
8 assorted tomatoes, cut into quarters
1 small red onion, halved and then cut into quarters
2 cloves garlic
3 Tbsp olive oil
2 tsp thyme
Salt & pepper
• Place the tomatoes, onion, and garlic into a bowl, add the olive oil, thyme, and season to taste. Toss until everything is coated and turn onto a baking sheet lined with parchment. Roast for 25 or so minutes in the oven at 180 - 200°C until the tomatoes and onion begin to caramelise.
• Allow to cool a little and blitz with a hand blender or in a food processor until smooth.
10ml Thai red curry paste
1 smallish knob of ginger, finely chopped
1 tsp chilli paste
250ml coconut milk (you can substitute plant-based milk if you prefer)
250ml chicken or veg stock
Splash fish sauce
Splash soy sauce
A handful of fresh coriander, finely chopped
• Heat some oil in a wok and add the curry paste, cook, stirring for a minute or two before adding the ginger and chilli paste. Continue cooking for a further minute or so. Then add the coconut milk, chicken stock, and blended tomatoes. Stir to combine and add the fish sauce and soy sauce. Taste and adjust as required.
• StIr through coriander before serving.
© Confessions in the Kitchen