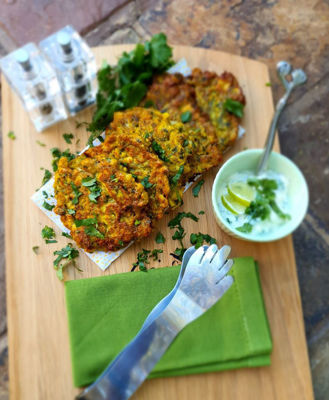 I don't know about you, but I find feeding the family three times a day a bit taxing these days. So, to make things easier, I've been looking for simple things that can be made in advance and kept in the fridge.
Then I just put them on the table at lunchtime with some deli-type dishes, salads and flatbreads. This lets everyone eat what they want, and as much as they want, and still enjoy a health
y and yummy meal.

This is a Yotam Ottolenghi recipe that fits the bill. These fritters are great for a brunch or light lunch... even a lunch box or picnic when the lockdown is finished. I've even used them as a sort of hash brown-type base for a breakfast dish.

They're simple to make and really delicious. Not only that, but you'll be getting one of your 5-a-day and avoiding carbs.

Enjoy everyone… and keep safe!

#LifeintheTimeofCorona

Cauliflower & cumin fritters with lime sauce

For the lime sauce

330ml Greek yogurt
2 Tbsp coriander, finely chopped
1 tsp lime zest
2 Tbsp lime juice
2 Tbsp olive oil
Salt & pepper

For the fritters
1 small cauliflower, cut into florets
250ml cake flour (all purpose flour)
3 Tbsp parsley, finely chopped
1 small onion, finely chopped
1 garlic clove, finely chopped
4 large eggs
1½ tsp cumin
1 tsp cinnamon
½ tsp turmeric
1 ½ tsp salt
1 tsp ground pepper
Oil, for frying
1 garlic clove, finely chopped

Directions

For the lime sauce
• Whisk all the ingredients together in a bowl. Place in the fridge until required. Before serving, pour over a dash of olive oil and sprinkle some coriander.

For the fritters
• Cook the florets in salted water until soft, then drain and set aside.
• Whisk the eggs, flour, parsley, garlic, onion, spices, salt, and pepper in a bowl until thoroughly combined. Add the cooked cauliflower and stir, while breaking down the florets into the batter.
• Heat the oil in a wide pan, you'll need this to be around 1.5cm deep. Once very hot, spoon 3 Tbsp of batter into the oil and carefully shape into a sort of patty. Be careful not to cook too many at once, or you'll lower the temperature of the oil and the fritters will become soggy.
• Fry for 3 to 4 minutes on each side, until nicely browned, then remove from the pan and drain on kitchen paper.
• Serve at room temperature with the lime sauce, flatbreads, and salad.