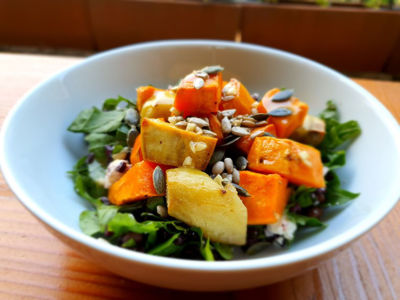 Nothing could be simpler to throw together than this delicious salad. And it's just great to make ahead of time for a healthy work lunch... just add the dressing before eating.
For a main meal, serve with some roasted chicken pieces, a steak, or a braai (barbeque).
BLACK RICE AND BLACK BEAN SALAD
INGREDIENTS
For the salad
2 orange sweet potatoes, cut into 2cm cubes and roasted in olive oil with a sprinkle of salt
2 white sweet potatoes, cut into 2cm cubes and roasted olive oil
2 cups black rice, cooked
1 tin black beans, thoroughly rinsed
½ red onion, finely chopped
100ml dried cranberries
½ pomegranate, seeded
2 good handfuls of rocket (or more if preferred), roughly chopped
A block of feta cheese, crumbled into largish chunks
1 ½ Tbsp toasted pumpkin and sunflower seeds
A handful of parsley, chopped
For the dressing
2 Tbsp lemon juice
2 Tbsp olive oil
1 Tbsp honey
1 tsp Dijon mustard
1 clove garlic, finely chopped
Salt & pepper to taste
DIRECTIONS
• Get all the ingredients ready beforehand. You can even make ahead of time and keep in the fridge to use as needed.
• Add the rice, sweet potato, beans, onion, cranberries, pomegranate seeds, and feta cheese to a large bowl and mix thoroughly.
• Add the honey and mustard dressing ingredients to a jar and shake well to mix. Add to the salad and toss to coat.
• Sprinkle with the chopped parsley and toasted seeds.
Serve and enjoy!